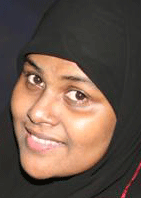 It is my interest in languages that led me to choose language teaching as a profession. Since 1993 when I did my GCE ALevel Exams, I have been teaching language at different levels of the Maldivian Education System.
My interest in linguistics was first sparked during my year at Institute for Teacher Education (Maldives) when we did a component on Phonetics with Ms Zahiya Zareer. I really enjoyed these lessons and must thank Ms Zahiya Zareer, for it was her enthusiasm and expertise in the subject that encouraged me to choose this area for further studies.
It was during my efforts towards a Bachelor of Education in Language and Literature at The University of the South Pacific – USP (Fiji), that I started studying Linguistics as a subject. My Linguistics lecturers at USP were exceptional people who induced in their students a genuine interest and love for the subject. I am grateful to all of them, especially Dr Jan Tent and Dr Kalika Bali for establishing in me a solid foundation of the subject and a keen interest to pursue it further.
Once back in the Maldives, armed with a B.Ed in Language and Literature, I taught English language and English language literature at secondary levels before joining the Maldives College of Higher Education – MCHE. It was here that I finally found the opportunity to pursue my interest in Linguistics further. I wrote and taught some introductory linguistics units at the Faculty of Education before I was awarded a scholarship to study for a Master of Arts in Applied Linguistics at the University of Melbourne, Australia.
During my year at the University of Melbourne I had the honour of studying with some very well-known linguists. I am indebted to all my lecturers at the University of Melbourne for helping me acquire the knowledge that I did while I was studying with them. I am especially grateful to Professor Tim McNamara for supervising my thesis and sharing his expertise with me most generously; and Dr Carsten Roever for his continued support and guidance every step of the way; in addition to being exceptional teachers.
After my Masters, I resumed work at the Faculty of Education of MCHE, teaching linguistics subjects to students doing Bachelor of Arts programmes both in English and Dhivehi. I aspire to instill in my students the interest and love of Linguistics that I attained through studying with my lecturers.
At present, I am teaching in the Foundation Programme at Qatar University in Doha, Qatar.
I hope that students and other visitors find this website useful and educational. You may use any of the material on this website in any form, as long as it is duly acknowledged.
As the aim of this website is to help you, all your comments, queries and suggestion are always welcome. If you would like to know more, please have a look at my Resume.
Cheers
Azu